Agility Angels was founded by friends, Melissa Voetsch and Kim Holmes in the summer of 2008.  By the end of the summer, more than 10 families had joined in the volunteer effort, which enjoyed immediate success in helping the students connect with each other, the dogs and the world.
Caroline has been in the program since the beginning and has grown so much. She now trains her own dog and gets so much support from everyone. — Ann, a parent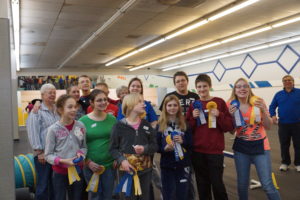 Agility Angels has grown by word of mouth to over 50 participants.  Training classes are held three evenings a week by Holmes and a crew of volunteer coaches.  Coaches and trained agility dogs are paired with students based on their compatibility.
The agility program has had a wonderful impact on my family. It has opened our eyes and hearts into the world "our kids" are living – with Autism. We have made new friends and we share our experiences and lift one another up. – Kathi, a parent
It is the mission of Agility Angels to serve children and teens with Autism Syndrome.
Agility Angels has scholarships available to help families in need participate in the program.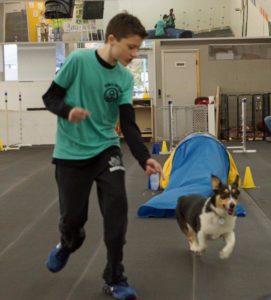 The dogs are a crucial part of our program.  They are often described as "Bomb Proof". They need to have a temperament that allows for "anything" to happen around them and not react negatively. Each dog must pass Agility Angels Therapy Test that has been designed specifically for the program.
Awesome dogs and people. My son feels so great when he is successful with his dog! – Dee, a parent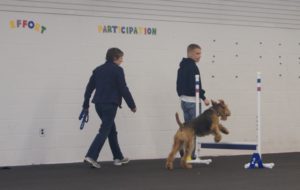 Our coaches are also an integral part of  our program. Most of them had no experience with Autism Spectrum Disorder until they volunteered. Some are still attending school, many are working in a variety of occupations, and some are retired. Some are experienced agility competitors and some learned agility just to be able to volunteer for Agility Angels. All of them are patient, kind, and loving with the students and the dogs.
Even if you don't want to work directly with the students or the dogs, we still have opportunities for volunteers.
Agility Angels has been a wonderful gift to my adult brother. He experiences joy in the success of working with the dogs, coaches and volunteers. It gives him the opportunity to relate to others in a non-threatening supportive environment. It's been good for me to see how much he enjoys the group and the activities. – Diane, a sister
Agility Angels Board Members
Kim Holmes, President
Manager Reynolds Rd. Animal Hospital
Melissa Voetsch, Vice President
Reporter, WTVG Channel 13 ABC
Mother of child with Autism
Fred Dannhauser, Treasurer
CFO, Arrow-Tru Line
Agility Angels Coach
Mary Walters
Director of M.O.D.E.L School for Autistic Learners
Mother of 3 children with Autism
Patti Eckhart
R.V.T., Retired
Agility Angels Coach
Beverly Nathan
Artist
Agility Angels Coach
Sandy Michalski
Radiology Admin., Mercy Health Partners
Mother of child with Autism
Tara L. West
Accountant, William Vaughan Company
Dr. Tim Valko M.D.
Valko and Associates
Child and Adolescent Psychiatrist
Dr. Thomas Young
Veterinarian, Rtd.
Emeritus member